Our Details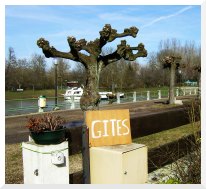 We can also be reached using the form below.
Gîtes Coeur de Saône
22, quai des mariniers
21250 LECHATELET
+33 (0)3 8046 1408Telephone :
+33 (0)6 8267 9921Mobile :
+33 (0)9 7214 2055FAX :
More information
Please contact us for availabilities and any other information you may need. We'll get back to you as quickly as possible.
Bookings are definitive only upon our confirmation.
The map will help you to find us, either in map mode or satellite mode, and facilitate the calculation of your itinerary.